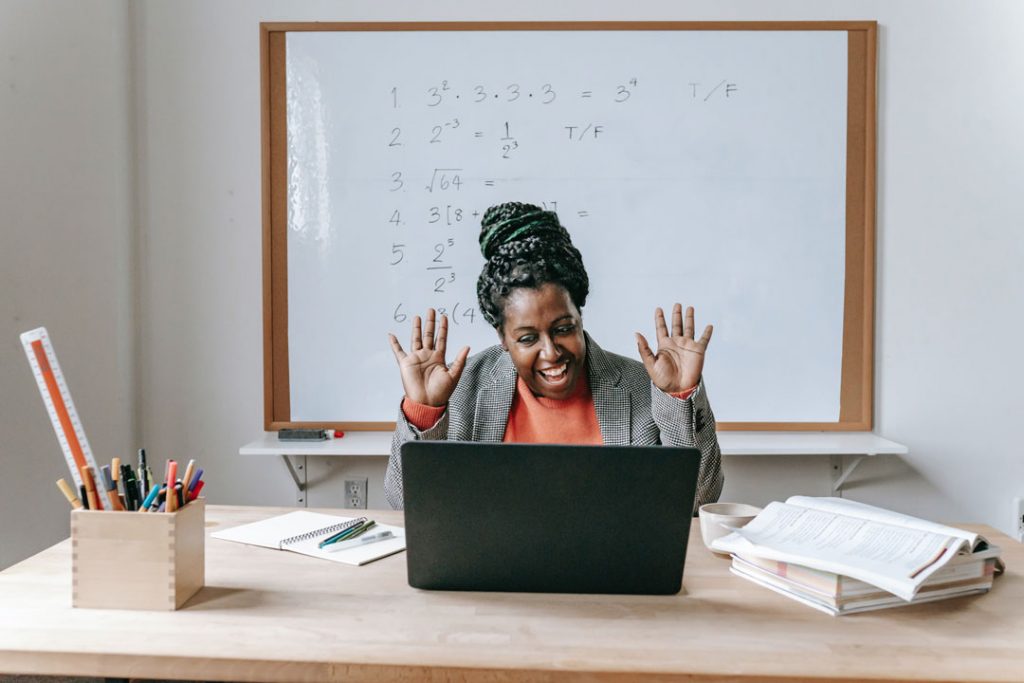 The impact of poor staff wellbeing on your school will be significant.
If staff are weighed down by stress and workload, feel like they lack a voice and are just not motivated…
How can they perform at their best and help your students do the same?
To achieve the school and student outcomes you want – put staff and their wellbeing first… and evidence proven benefits will follow!
That's why Welbee was created…
To systemise how you improve staff wellbeing and to use anonymous and honest staff feedback to make improvements where it matters most.
So, how does it work?
Gain an insight into how your staff are really feeling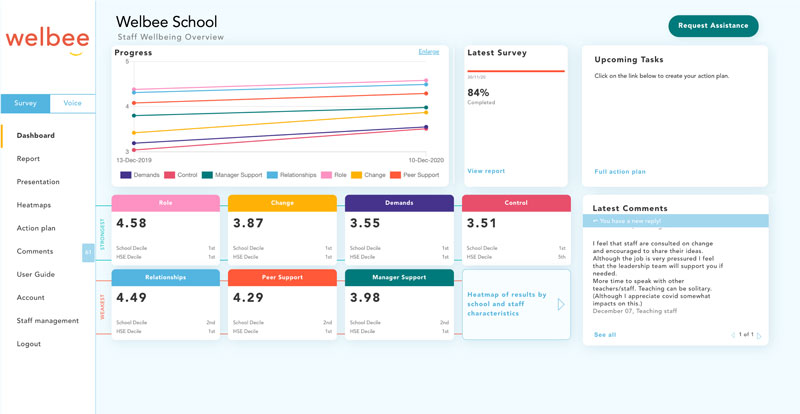 Welbee Survey uses an evidence-built survey to gain honest and anonymous feedback from staff.
It uses the Health and Safety Executive's six Management Standards for assessing workplace wellbeing and managing the risks of workplace stress.
In just 39 questions (which take around 10 minutes to complete), your staff can effectively communicate with you and share how they are feeling!
The results score your school against the Management Standards and benchmark you against other schools and cross-sector organisations.
Welbee uses this to provide you with recommended actions, making sure you know where to start and what to focus on for the greatest impact.
Running Welbee Survey annually will automatically track your progress against previous scores and continue to benchmark you against other schools. Having this in your easy to use dashboard means you can easily share information with staff, governors and inspectors and demonstrates your commitment to understanding and reducing the pressures your staff face.
Delve deeper into what staff have to say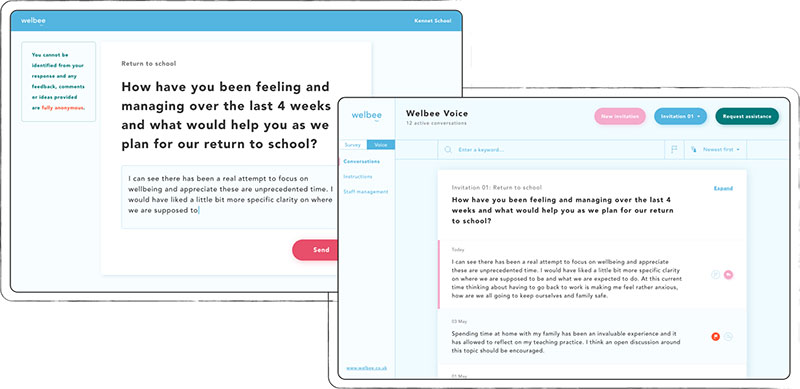 You can run a full detailed survey more regularly, though most schools we work with run it annually to allow them to take the needed action.
This doesn't mean you should wait to continue to ask for feedback or that you shouldn't look for specific feedback on post-survey actions. That's why we added Welbee Voice Pro, to allow you to continually follow up anonymously with staff. You can send messages to all staff (or to groups as small as eight) to seek feedback on actions you take after your survey, ask further questions, encourage them to raise issues that are important to them or to suggest ideas.
Once staff respond, you can keep the conversation going anonymously to gain as much information and/or feedback as you need.
The deeper you go, the more effective your improvements can be.
It's a great way to keep staff engaged and to make them feel valued, as they're able to voice their opinions and know you are listening, providing you respond and take appropriate action.
Receive support from the experts in improving staff wellbeing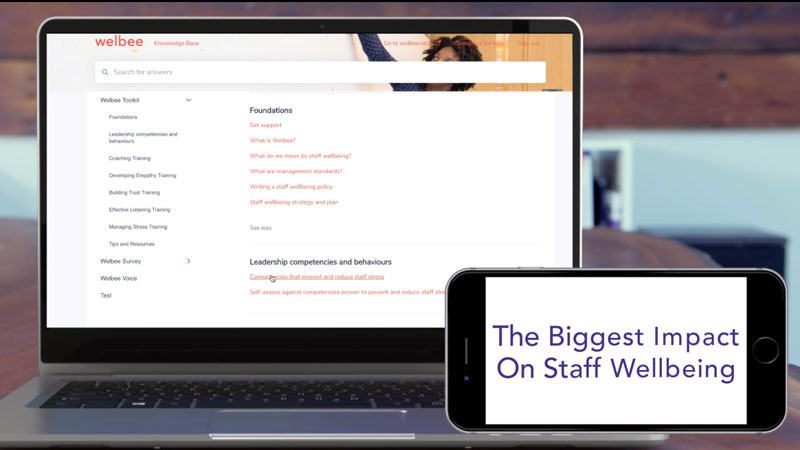 Alongside Welbee Survey and Voice Pro, you also have access to the Welbee Toolkit. This includes resources and training targeted at building your wellbeing foundations and working on areas that we know have the biggest impact on staff.
It's split into four sections, designed to provide you with the best support as you take and follow up your survey:
Foundations
This section has been designed to give you a greater understanding of the basics of staff wellbeing and how Welbee will help you to improve it. It includes a draft staff wellbeing policy that uses the management standards and fits with the Welbee Survey. You can download it, edit, use or add elements to your existing policy.
Leadership competencies and behaviours
There are 12 competencies and associated behaviours that, if modelled by leaders, are proven to prevent and reduce stress in the staff they lead. These are included in this section, as well as questionnaires that your leaders can use to self-assess against these competencies. This provides a report that identifies strengths, areas for focus and training and development they can undertake.
Training
A combination of self-reflection articles, questions and videos provides training on the most important behaviours that prevent and reduce staff stress. There is also a session on managing stress.
Resources and articles
Finally, we have also provided you with a selection of resources and articles that you can share with staff to help them look after their own wellbeing, in addition to the improvements you will be making.
This also includes two PowerPoint decks and trainer notes that you can use for whole staff training, for example in inset or twilight sessions or in bite-sized chunks in meetings.
The first of these shares tips for staff to manage their own wellbeing, the second is aimed at senior leaders and how they can manage their own effectiveness and, as a result, improve their wellbeing. Together, these provide more than a full day's training and are the materials we use when we deliver training directly for schools.
In addition, you will also receive 12 months of remote support…
This includes a 1:1 call with a Welbee staff wellbeing expert to discuss your survey results, review priority actions and receive advice on how best to implement them.
Plus email, phone and video call support whenever it's required throughout the year!
Welbee will fully support you and your school throughout your journey to improve staff wellbeing so that you can achieve the outcomes you want!
Prioritising staff wellbeing will transform your school
The benefits of improving staff wellbeing are significant, it will help to:
Improve staff engagement and motivation, which will translate into better student and school outcomes
Increase staff retention and make staff recruitment easier
Reduce staff absences and the time spent in arranging cover
Significantly reduce costs.
So, if you're ready to start making improvements…
Click here to book a no-obligation demo of Welbee to see how it could help you to improve staff wellbeing and transform your school!