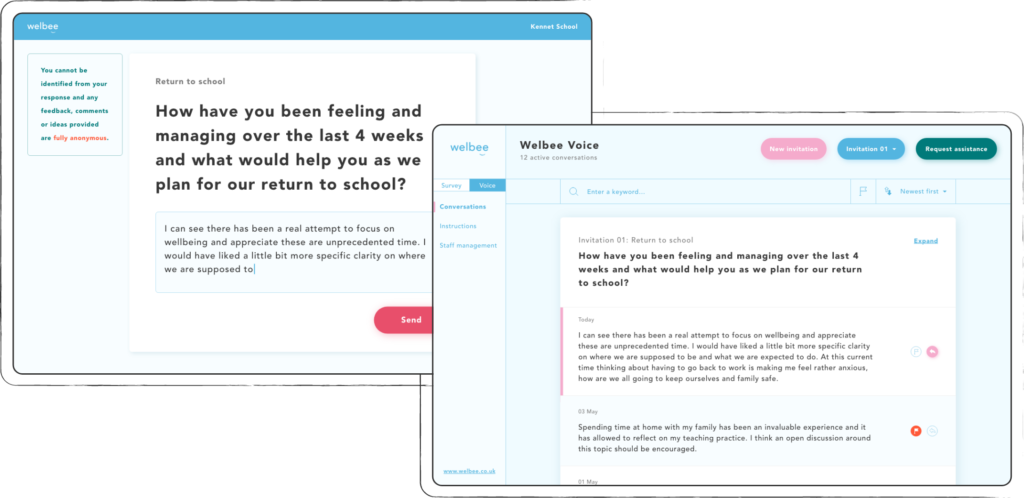 Acknowledging, listening and responding to staff on an ongoing basis are three of the most important ways to ensure you give them a bigger voice and as a result they are more likely to thrive at work
While it's right that staff need to take responsibility for their own performance and wellbeing, including while working remotely, leaders have such an important part to play.
Sitting at the centre of this is how well leaders keep in touch and communicate with their immediate and wider team. This is always important and even more so during challenging times and as some staff continue to work from home and we see a phased return to school. It's why we provided a guide to managing people during the pandemic.
With everything going on at present it's not always easy to keep in touch and stay connected with all staff. And not everyone will open up and be honest. They may even tell you what they think you want to hear, rather than what they really want to say.
There is a FREE solution that will support you and immediately increase the direct voice for your staff, and particularly those that find it more difficult to speak up – read on to find out how you can get hold of it.
How staff express themselves
The three major ways that staff have a direct voice is through 1 to 1s, wider meetings and staff surveys, in that order. In addition there is representative participation, where others represent their views.
This is through other channels; their line manager; peers; colleagues; and organisations such as unions. It's very much secondary to the more direct approaches.
The Chartered Institute of Personnel and Development, the body representative of HR professionals recently published their annual Good Work Index Report (June 2020). This shares the significance of voice and the impact this will have on how staff feel valued and the likelihood of them giving greater discretionary effort. It's important.
For busy leaders in school, finding time for regular contact with staff can be hard. Even if they find time, their team members may not be available. So much of school life is timetabled and inflexible. Opening conversations that have the power to support wellbeing and bring about positive change is particularly difficult.
Working remotely can increase opportunity
The move to working from home has in some cases created more opportunity. While everyone remains busy, many staff have greater autonomy about when and how they do things, including talking. However, because people are out of sight it does take discipline, effort and good organisation to make it happen.
It's why we built Welbee Voice – to support you in seeking feedback and starting open and honest two way anonymous conversations. You can invite all staff or select specific groups. It's easy to set up and use.
The best part is it is FREE to our staff wellbeing survey customers and free to all other schools until at least September 30th 2020.
You can use it to help give your staff a bigger voice.
You can find out more here and register for your free account.
If you have any questions about communicating more effectively with staff at school or remotely or anything else to do with staff wellbeing and voice, please get in touch.